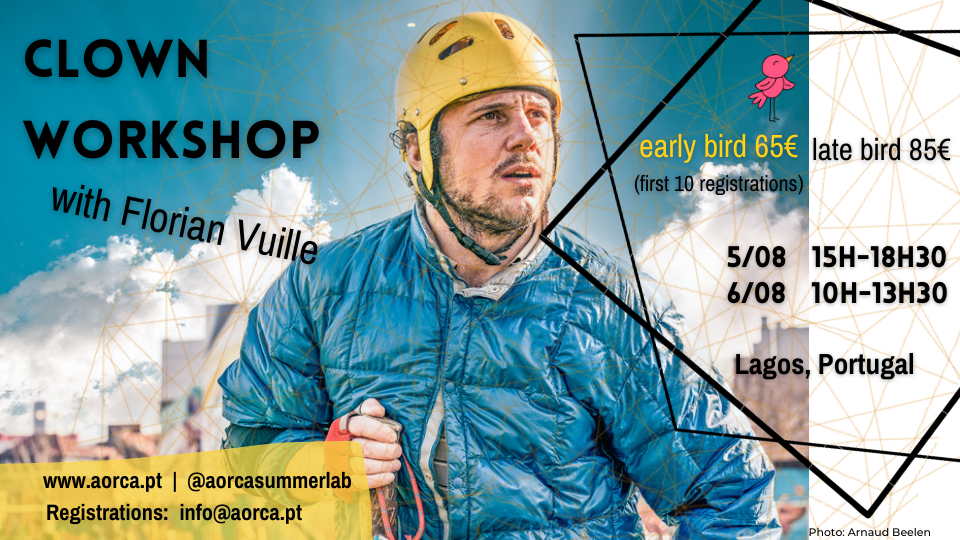 In this workshop we will explore the 3 secret rules of clowning. Difficult to say more about it, as they are secret. Sorry. The participants will use the concepts of lightness, fun and sharing among others and play with the unknown thanks to these.
Workshop is open for all levels.
SCHEDULE:
5/08 15H-18H30
6/08 10H-13H30

PLACE: ADL (Associação de Dança de Lagos)
Lagos, Portugal

PRICE:
Full price 2 Days WS: 85€ | Early bird: 65€
*Early bird for the first 10 registrations.
**Discount for participating in both workshops: DANCE PARTNERING + CLOWN
Full price for both workshops (5 Days): 200€ | Early bird: 160€

REGISTRATION:
Fill in a registration form:
https://forms.gle/CZv3D3fATJTTVpdz6
More info: info@aorca.pt

TEACHER'S BIO
Florian Vuille is a Swiss born artist. From 2007 to 2010 he did his BA in Physical Theatre at the Dimitri Theatre school in Switzerland. He started performing in 2010 as a Clown in Circuses all over Europe (France, Switzerland, Finland, Belarus, Germany). In 2012 he moved to Brussels and slowly switched from circus to dance. In 2013 he met David Zambrano and has been training and working with him ever since. He currently has projects with children and dance, together with Anne-Lore Baekeland or Mat Voorter, and performs with Paola Di Bella, Daniele Bianco, Fanny Brouyaux and in the group Brut Movement. In his performances, he likes to draw on his various backgrounds.